Products
Our products include:
Our services include installation & support of:
PACS server
Mini-PACS server
PACS Workstation
DICOM DVD Burner
DICOM Web Portal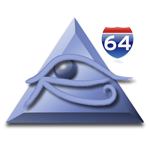 OsiriX MD is cleared by the FDA, as a Class II Medical Device, for diagnostic imaging in medicine. OsiriX MD complies with European Directive 93/42/EEC concerning medical devices (CE labeled). Under this directive, it is regarded as a Class IIa product.
While based on the well known open-source project, OsiriX, it is not identical, because of the FDA/CE regulations: each user is registered in our database and have a unique serial number to run OsiriX MD; each modification to the software has to be validated, strictly tested and described.
These regulations will guarantee to the registered users that OsiriX MD is fully certified for medical imaging, including primary diagnosis.
OsiriX MD is the result of more than 10 years of research and development in digital imaging.
It fully supports the DICOM standard for an easy integration in your workflow environment.
It offers advanced post-processing techniques in 2D and 3D and a complete integration with any PACS, including the well known open-source project, dcm4chee. OsiriX MD supports 64-bit computing and multithreading for the best performances on the most modern processors.
OsiriX MD is available for only $699 USD here.
This package contains:
OsiriX MD, FDA-Cleared / CE IIa for primary diagnostic
64-bit extension
User Manual Plugin
Perpetual License
Free upgrades for 1 year
Email Support
Immediate download after online payment
Available worldwide
Registered users will be entitled to a minimum of one year's free upgrades.
To continue to receive free upgrades for a new year, registered users can apply for a discount.
OsiriX MD can be immediately downloaded after online payment.
OsiriX MD requires an Apple Mac computer, with OS X 10.9 to 10.11.
Single license: OsiriX MD can only be used on a single computer at a time.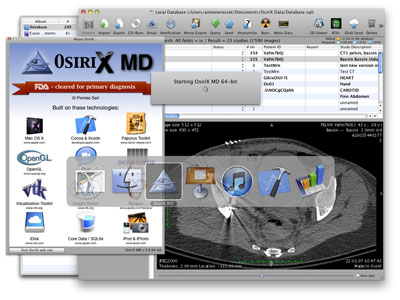 The following table highlights the main differences between OsiriX MD and OsiriX
OsiriX MD
OsiriX Lite
FDA-Cleared
CE IIa Labeled
Medical usage

"NOT FOR MEDICAL USAGE"
tag displayed on all images
User Manual Plugin
Performances
Up to 80% faster
Standard
Email support
Pixmeo Website Account
Open 500+ images series
2D Images Viewer
3D MPR
3D Curved MPR
3D Rendering
Local Database
Web Server
Web Server user limit

Unlimited

2 users max

DICOM Services
DICOM Nodes limit

Unlimited

2 nodes max

Run as PACS Server
DICOM Editing
Bonjour Protocol
CD Creation
PET-CT Display
32-bit Pixel Pipeline
11-bit Monitor Support
JPEG2000 DICOM
Perpetual License
Price
$699 USD
Free
Users Rating
Our users love OsiriX MD!
In our latest survey (early 2015): more than 90% of our users recommend OsiriX MD!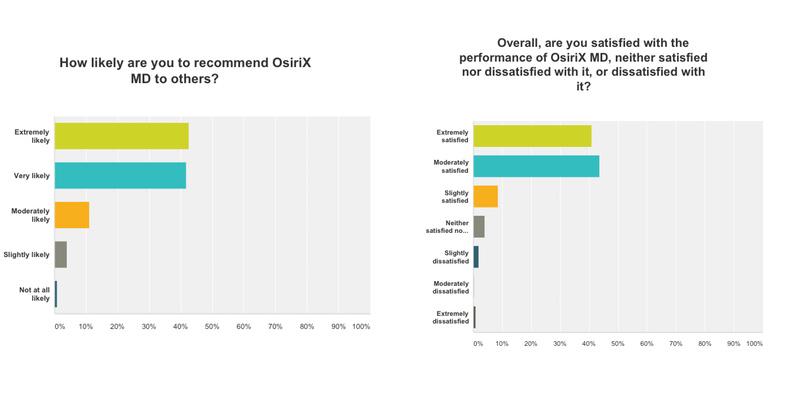 More about OsiriX MD
DICOM Conformance statement of OsiriX MD is available here.
OsiriX MD end-user license is available here.
White papers about OsiriX:
Buy OsiriX MD
$699 USD for a FDA-Cleared / CE DICOM Viewer?
OsiriX MD is the most affordable and powerful FDA-Cleared / CE DICOM Viewer.
Feel free to compare it to eFilm Workstation ($2'500 USD) or ClearCanvas ($1'800 USD)!
OsiriX MD for only $699 USD : buy now (immediate download after payment)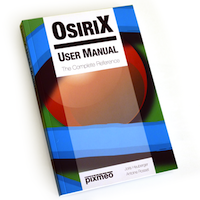 The OsiriX User Manual is the complete reference for all OsiriX and OsiriX MD users.
This richly illustrated digital book contains the full description of all features included in OsiriX and OsiriX MD as well as some guidelines to use the program and integrate it in a DICOM environment.
Through more than 300 pages, the new user will learn how to use the 2D image viewer, the power user will understand how the database works and the technical user will learn the best practices to create a JPEG2000 DICOM network.
The User Manual also covers the following topics:
The preferences
The database
The communications (DICOM, HTTP, XML-RPC, ...)
The viewers (2D, 3D MPR, 3D Curved MPR, 3D Rendering, 2D Endoscopy, ...)
Security
Etc.
The User Manual is distributed as a digital plugin compatible with all versions of OsiriX / OsiriX MD.
The full table of content is available here.
An extract of the manual is available here and here.
The OsiriX User Manual is available for only $99 USD here.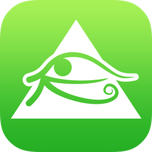 OsiriX HD is a DICOM image viewer for iOS (iPhone, iPod touch and iPad).
It offers basic image manipulation such as zoom, pan and window level using gestures and supports standard DICOM communications:
DICOM compliant Listener (C-STORE SCP)
DICOM Query and Retrieve (C-FIND SCU, C-GET SCU, C-MOVE SCU, WADO)
JPEG2000/JPEG DICOM support

OsiriX HD manual is available here.
OsiriX HD is a universal application, optimized for the iPhone and the iPad screens.
OsiriX HD is available on the AppStore.

The Pixmeo team provides installation, support & integration of PACS-related services for customers in the Geneva area.
Services include:
PACS server
Mini-PACS server
PACS Workstation
DICOM DVD Burner
DICOM Web Portal
For more information, please contact us by e-mail.